Dysgraphia? There is early intervention.
Dysgraphia is characterized by a difficulty in written expression. This generally includes very messy handwriting; poor spelling and reading skills; and a problem with words and ideas coming smoothly. These are all skills that are predominantly handles in the left side of the brain. Click here for a list of Dysgraphia Symptoms.
Dysgraphia is a brain-based disability. Contrary to what many think, it is not a lack of practice. Is a matter of fact, these children usually work much harder to accomplish the same writing assignments as their classmates. They generally put way more effort in, or get so frustrated that they start to withdraw and avoid it all together. It is so hard to watch them struggle with little or no improvement. Mommy and child usually end up crying at homework time.
Good News!
The good news is that there are interventions. Because Dysgraphia originates with a weakness in the brain function, it can be stimulated to improve with simple exercises. That's right! In 1948 Jerzy Konorski, a Polish Neurologist, first introduced neuroplasticity, the brains ability to reorganize and rewire. It wasn't until recently that tests and studies were done that proved his theory. We can rewire neurologically to solve problems.
Below, we will go into interventions you can do right at home to help reverse dysgraphia.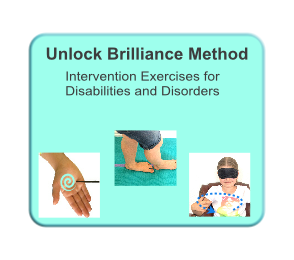 Like most of the other disabilities, it is important to make sure they have eliminated the trouble makers and strengthened the weak sensory and cognitive functions. See our Unlock Brilliance page for these simple tests and exercises.
Short and Long term memory, as well as working memory play a very big roll in the ability to form letters, word, sentences and thoughts. There are many exercises online to help with these, so we won't go into that here. Google 'how to improve memory' to find a lot of great idea.
Visual-Spatial ability is important very important in handwriting. There is a very good book by Dianna Craft called Smart Kids Who Hate To Write. We highly recommend this book for more info on the Visual-Spatial activities for handwriting.
Executive Function
After you see a good amount of improvement in the above areas, start working on games to help them improve organization. We do this last, because it is a higher function of the brain that may not have developed well if the other functions were lacking. Now that they have improved the other functions, it is time to help them with their Executive Functions, specifically Organization.
Get objects around the house that they can organize or sort and categorize in different ways.
Sit down and talk with them about something they are passionate about. Make mental lists and help them to organize and categorize them verbally or on paper. For example, if they love Legos, talk about the different Minifigures they make. Talk about some that could go in the same color category or some that go to the same movie or story. You could look up cute ones online and help them draw them in different groups in a note book. Anything you can do to get them organizing items and thoughts. It has been proven that children learn more and retain more if it is a subject they are passionate about.
Help them recall memories of past events or activities and put them into categories. For example outdoor activities & indoor activities or  birthday parties & school parties etc.
Try to do the interventions with them daily or at least a few time per week. Keep it within their attention span and use incentives.  It sounds like a lot to tackle, but just take it slow. Keep it fun. And enjoy the one-on-one time with your child. You are improving a life.