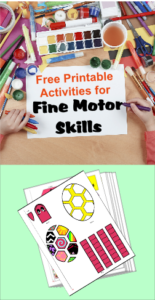 Fine Motor Skills are the foundation for many higher functions. Fine Motor Skills affect hand-eye coordination, sensory processing, proper vision, motor control, speech and…surprise!… reading skills too.
We know how busy parents and caregivers are. We know time is limited. That's why  we've created some fun cut, crease, bend and paste activities designed to encourage Fine Motor Skills Development with easy pictorial instructions.
FREE DOWLOADS
Fine Motor Skills activities download in Color
Fine Motor Skills activities download in Black and White
Children of all abilities can stimulate and enhance their Fine Motor Skills. Fine Motor Skills development will benefit them all through life. It will kick start their success in kindergarten skills requirements and continue to give them the upper edge all through life and into their career.
 If You Want More Like These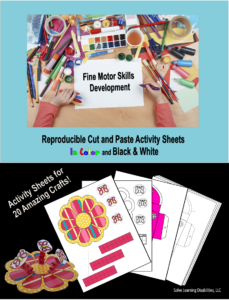 We have a packet of 20 more reproducible Fine Motor Skills cut, fold and paste activities.
Children of all ages can do these projects. The little ones need a bit of scissor help from m om. The older ones can do them on their own.
And, because it's fun creating, they love to do them, one after another. These activities  keep them occupied and stimulated for hours.
All 20 projects come in Color and Black & White.
Each includes Instructions with pictures. Learn More
These projects also encourage:
Scissors Skills
Sequencing Skills
Hand Eye Coordination
Motor Control
Vision Skills
Attention Span
Simultaneous Processing Skills
Language Processing Skills
You can give the instructions verbally for Audio Processing Skills
Therapists and Teachers
You are allowed to print multiple copies to give out to students and patients. We prefer you don't share the electronic copy, but refer those who want it to this page to get their own. 🙂