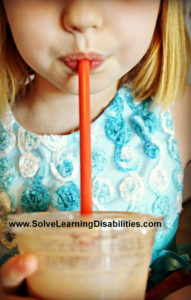 It is hard to find fast and nutritious meals in the morning. So many people have to rush in the morning to get their kids fed and out the door for the school bus. Well how about we show you a fast way to make a healthy breakfast that children with ADHD or Autism will love? Oh, and did I mention that this recipe was actually tested by kids?
This breakfast smoothie is rocket fuel for your children and a great way start their day! Plus it is super-fast to put together. Here is how to make this yummy smoothie, and I have also included what each individual ingredient does for your child.
Ingredient List
Almond Butter and Almond Milk

Almonds have many key elements that are vital for your brain. Almonds have been known to be essential for growing children. They contain two brain Nutrients Riboflavin and L-Carnitine, these are both known to increase brain activity.

Bananas

These little super fruits have about 5 times the amount of iron than an apple does. Plus they are full of vitamin C!

Cocoa Powder

Alternative to popular beliefs. Kids with learning disabilities can have chocolate. The sugar and other additives in a chocolate bar is what makes them crazy and more hyper. Chocolate actually improves blood flow to the heart and brain, which also improves your brain's cognitive function. I have provided links to prove that chocolate is not as bad as we thought.

Rolled Oats

Oats are very rich in fiber and that helps you stay fuller for a longer amount of time.
Smoothie Recipe
½ Cup of oats
1 Tbsp. of Raw Cocoa Powder
2 Tbsp. of unsweetened Almond Butter
1 Cup of Almond Milk (can substitute with rice milk or coconut milk)
1 Full ripened banana
1 Cup of Ice.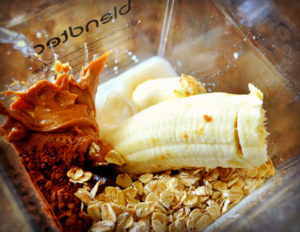 Combine the ingredients and blend until smooth and creamy. Enjoy!!
Conclusion…
I hope you love this ADHD Diet smoothie! This is definitely a favorite in our house. See what Lyla thinks of this Breakfast smoothie.
Lyla, Age 7 Shows signs of ADHD
Me: "What do you think of your smoothie?"
Lyla: "It's Yummy!"
Me: "What does this smoothie remind you of?"
Lyla: "Chocolate Milk!"
Please do not use this recipe if you or your child suffers from any allergies contained in these foods.