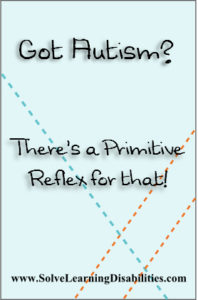 Is your child showing signs of autistic behaviors? Autism Spectrum Disorder is characterized by a child that has impaired communication and social skills. But, being Autistic is so much more than that to families living an Autistic child or sibling. These wonderful children really are so bright and creative. Their struggles are real. Their little light seems to have dimmed during their toddler years and the information in their mind seemed to get trapped. Don't despair. That bright child you saw at age one is still in there. With neuroplasticity, specialists have proven that we can rebuild lost connections in their brain. There are interventions now.
What happened?
Nobody knows for sure. Environmental differences, parenting, genetics and nutrition are so variable between children in different families, that it makes it almost impossible to pinpoint a cause or number of risk factors. Specialists have found some things that are consistent across the autism spectrum disorder. Certain neurological deficiencies that may not be the cause, but when stimulated in an early intervention way, produce fantastic results. We have linked to them below.
Specialists have also found that children that are very bright can actually have one half of their brain that matures rapidly and leaves the other half a little behind. This is often the case with Autistic children. Their left side matures fast. When the right side cannot keep up, the connection between the two halves weaken and disconnect. This is called Functional Disconnection Syndrome. This is why they start out super bright, then start to lose the connections.
Symptoms appear between 1-2 years of age. The child starts to show signs of sensory processing issures. They start to lose some to the tricks they learned in their first year of life. Communication and social problems start to take root. They begin having outbursts that are no characteristic of the usual 'terrible twos'. They avoid eye contact and start to withdraw. It is time to stimulate neurological growth, catch up the right hemisphere and develop new connections between the two sides.Click here for more signs of Autism.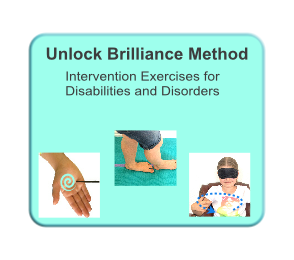 Our Unlock Brilliance has at home tests and exercises that help you to pin point the weaker functions and stimulate them to grow new neurological connections.
In addition to the Unlock Brilliance Exercises, we highly recommend a book by Dr. Robert Melillo titled Autism. Dr. Melillo is the co-founder of the Brain Balance Centers. He has put out a few fantastic books. We also recommend his books Disconnected Kids and The Disconnected Kids Nutrition Plan. These books are a must-read for families with Autistic children. His methods are so successful that he now has over 85 Brain Balance Centers in North America. He is improving the lives of many Autistic Children. And, he puts his methods right in the book for you to do at home.
The above exercises can help with developmental disabilities or weaknesses regardless of the diagnosis. We do recommend seeing a specialist for a proper diagnosis, so you know how to talk to teachers and address issues. Knowledge is power.